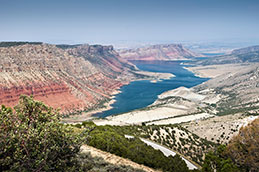 Flaming Gorge Reservoir was created in 1962 with the completion of the Flaming Gorge dam on the Green River. The dam was created to provide water storage and hydroelectricity. The resulting lake is 91 miles long with 350 miles of shoreline. The Utah section of the lake winds through colorful, narrow canyons; the Wyoming portion is wider and surrounded by high sagebrush deserts. The lake is managed by the National Forest Service as part of the Flaming Gorge National Recreation Area.
Manila is a small town nestled against the hills on the north slopes of Lucerne Valley, a remote area tucked between the northern reach of the Uinta Mountains and the Wyoming border in Daggett County, Utah. State Highway 43 makes Manila the western gateway to the Flaming Gorge National Recreation Area for millions of yearly visitors.
Manila offers a home base for the many needs of visitors to Flaming Gorge. Lodging, food, camping supplies, gasoline and all recreational items are easily found. The Flaming Gorge Recreation Area offers opportunities for all types of fishing, boating, water sports, houseboating, and personal watercraft, with rentals available at the many marinas around the Flaming Gorge Reservoir.
As frost rolls over the landscape the fun doesn't end with the warm weather. Winter is a magical time of year here in Flaming Gorge Country. Whether on cross-country skis or snowmobiles, there are miles of trails to explore. Come share the winter solitude with our spectacular wildlife. Enjoy year-round fishing. You will find the visit to Manila and Flaming Gorge one well worth repeating.